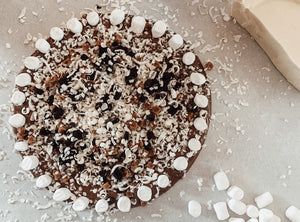 Learn how to work with chocolate like a master chocolatier with Oli The Choc
Using Oli's step by step instructions and YouTube tutorials you will no doubt unlock a passion for chocolate!  
"It's that creative spark which is triggered inside us all when working with chocolate, it's absorbing, inspiring, limitless and a fantastic way to spend time with family or friends."  - Oli The Choc
Your Kit Contains;
Milk Chocolate, White Chocolate, Grated White Chocolate Cheese, 2 toppings of your choice, Accessories Kit (includes pipings bags, lolly sticks, greaseproof paper) and 1x Choc Star certificate.
(1 kit contains enough chocolate to make 1 pizza and 1 lollipop).
Add a bandana to wear whilst making your pizzas and lollies like Oli The Choc.
You will need;
Scissors, Greaseproof Paper, Fridge/Freezer, Microwave or Hob with compatible bowls/ pans.
Please note all our Chocolate is Gluten Free, Kosher & Halal.
If you have any dietary requirements please specify in the order notes section and we will do our best to accommodate, i.e. We can provide Dark Chocolate for Dairy Allergies/ Vegan diets.