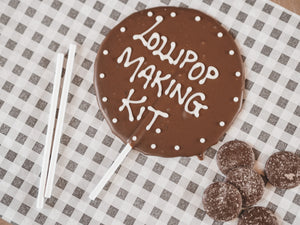 Learn how to work with chocolate like a master chocolatier with Oli The Choc
Using Oliver's step by step instructions and YouTube tutorials you will no doubt unlock a passion for chocolate!  
"It's that creative spark which is triggered inside us all when working with chocolate, it's absorbing, inspiring, limitless and a fantastic way to spend time with family or friends."  - Oli The Choc
Your Kit Contains;
Milk Chocolate, White Chocolate, Accessories Kit (includes pipings bags & lolly sticks) and x2 certificates.
(1 kit contains enough chocolate to make 4 lollipops).
Add a bandana to wear whilst making your lollipops like Oli The Choc.
You will need;
Scissors, Spoons, Greaseproof Paper, Fridge/Freezer, Microwave or Hob and compatible bowls/ pans.
Please note all our Chocolate is Gluten Free, Kosher & Halal.
If you have any dietary requirements please specify in the order notes section and we will do our very best to accommodate, i.e. We can provide Dark Chocolate for those with Dairy Allergies/ Vegan diets.